When John Dreuth walked into PNC Park in Pittsburgh last summer, he completed the ultimate baseball road trip. The second-year Krannert MBA student has attended baseball games in all 30 major league parks, a journey of 19,000 miles spread over three summers.
"I've always been a baseball fan," Dreuth admits. "After high school, I played on a team in Europe, and I've been involved in Little League coaching."
The Chicago native and lifelong Cubs fan came up with the idea of visiting each major league park during his senior year in high school. After graduating from Purdue in industrial engineering in May 1998, he started the journey that summer at Ewing Kauffman Stadium in Kansas City. He traveled in 1998, 1999, and 2001, saving a long West Coast trip for the final year. Dreuth has actually seen games in 36 parks, including now-closed venues in Chicago, Pittsburgh, Detroit, Houston, Milwaukee, and Arlington, Texas.
He purchased his tickets in advance, and only had one glitch along the way. "Jacobs Field in Cleveland always sold out games, so I had to get my cousin in Ohio to help me get a seat," he says.
The 26-year-old bachelor did all the driving himself, although with friends and relatives in several major league cities, he rarely attended games alone. He walked around the exterior and then the interior of each stadium, and then asked guest services if there were any particular things he should see. As mementos, Dreuth bought golf balls, each displaying a team's logo.
Not surprisingly, he lists Chicago's Wrigley Field as his favorite venue. He says Pitts-burgh's PNC Park is the nicest new stadium, while Pacific Bell Park in San Francisco is the best for children. New York Yankee fans win Dreuth's endorsement as the most knowledgeable.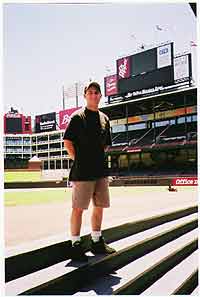 John Dreuth
The worst ballparks: Tropicana Field in Tampa Bay and Pro Player Stadium in Miami. Employees at the latter admitted to Dreuth that the stadium was built for football, not baseball.
Dreuth doesn't know yet where he'll be working after graduation, but he is certain of one travel destination in 2003: Cincinnati. The Reds are opening a new ballpark. - Tim Newton